We want you to feel comfortable knowing that we care deeply about your privacy. As such, we have provided this Privacy Policy to explain how we use and protect information gathered from visitors to our site.
We may use session cookies in some areas of this website to improve the overall usability of the site. 
What is a Cookie?
Cookies are small text files placed on your computer, often without your knowledge, while visiting certain sites on the Internet. They are used to identify your computer. For example, cookies are used by some sites to greet you personally, to post a list of your favorite books, or to remember what you had in your shopping basket the last time you visited.
Does LA CCTV Supply use Cookies?
On this website, a temporary cookie may be placed on your computer for applications such as online registration forms. The session cookies are used to facilitate the interaction between you and the fields in the form. The cookies are not used to collect or store information about you and do not track you if you return to our website. The cookie is temporary and will be deleted when you exit your browser.
You can prevent cookies from being placed on your computer by accessing your browser's preferences menu. You can also delete existing cookies. There are also commercial programs available to help you manage cookies. You can block cookies, beacons, and other trackers. Before taking such steps, however, you should be aware that some websites may not work properly if you choose to block the placement of trackers and cookies on your computer. You will need to decide whether enabling cookies outweighs the privacy concerns.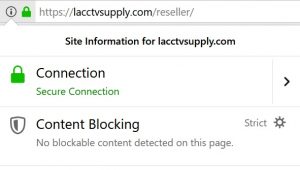 We strive in each instance to tell people who provide personal information to us about the purpose for which that information is collected. At the time of collection, we also strive to inform people who are asked to provide personal information about the general uses of that information.
WE DO NOT SELL, RENT, OR KNOWINGLY PROVIDE YOUR INFORMATION IN ANY WAY TO ANY THIRD PARTY without your specific consent. We absolutely hate when companies do that and will NOT do that to you.
We only use or disclose personal information for the specified purposes, or purposes consistent with those purposes, unless we get the consent of the subject of the information, or unless required by law or regulation.  For example, if we request your DUNS number for a business reference check, we will only supply that DUNS number to Dun and Bradstreet for that specific purpose.
Certain visitors to our website choose to interact in ways that require LA CCTV Supply to gather personally-identifying information. The amount and type of information that our site (usually via a form) gathers depend on the nature of the interaction. For example, we ask visitors who comment on our blog to provide a username and email address; and our reseller application form requires information such as email, phone number, first, last, and business name.
We use WPForms by the way – their privacy policy can be found here.
Regarding those who wish to receive updates and communication via email, we collect their emails. In each case, LA CCTV Supply collects such information only insofar as is necessary or appropriate to fulfill the purpose of the visitor's interaction with us.  Visitors can always refuse to supply personally-identifying information, with the caveat that it may prevent them from engaging in certain website-related activities or prevent them from obtaining member-only electronic offers and communications.
But, you can always call us instead. We also have paper forms we can mail using the USPS.
If you are truly concerned about online privacy, we HIGHLY SUGGEST using a VPN

We use information security safeguards. We take reasonable precautions to protect the personal information collected or maintained by us against loss, unauthorized access, and illegal use or disclosure. LA CCTV Supply uses encryption software to protect the security of individuals' personal information during transmission of such information through the website. Such personal information is stored by LA CCTV Supply in secure locations. The LA CCTV Supply staff is trained on procedures for the management of personal information, including limitations on the release of information. Access to personal information is limited to those whose work requires such access. Confidential information is destroyed according to California's records retention laws. We conduct periodic reviews to ensure that proper information management policies and procedures are understood and followed. LA CCTV Supply encourages all individuals to use appropriate safeguards to secure their computers and the information on those computers (like password protecting your computer, restricting physical access to your computer, installing Antivirus software and keeping it up-to-date, and using a VPN while surfing the internet).
We use Worfence Security Firewall and Malware scanner to protect our site:
(https://wordpress.org/plugins/wordfence/)
Wordfence, in order to work correctly, collects information about visitors to our site in the following manner:
monitors visits and hack attempts in real time; including origin, IP address, time of day and time spent on our site.
blocks attackers by IP uses advanced rules based on IP Range, Hostname, User Agent and Referrer.
Wordefence Security Firewall and Malware scanner sends to us a report of hacking attempts and blocked (malicious) IP addresses. The Wordfence Web Application Firewall identifies and blocks malicious traffic, in order to do so, it has to know what IP address the traffic is coming from.
Privacy Policy Changes. Although most changes are likely to be minor, LA CCTV Supply may change its Privacy Policy from time to time, and at our sole discretion. We encourage visitors to frequently check this page for any changes to the Privacy Policy. Your continued use of this site after any change in this Privacy Policy will constitute your acceptance of such change.
We do not use Google Analytics in any way but here is a link to the Google Analytics Opt-Out browser add on (we think you should visit) – https://support.google.com/analytics/answer/181881?hl=en